Furniture to Hire
As well as buying and selling furniture, we also hire our furniture to Film, TV, Photo Shoots and Theatre companies. We hire out a large selection of furniture, smalls and props from Victorian to modern day.
Wide Choice of Tables and Chairs for Hire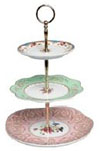 Our large selection of traditional tables and chairs are available to hire for weddings, parties and functions. Tea sets and cake stands are available to buy.